This privacy policy notice sets out how Damai Beach Resort ("DBR") uses and protects any information that you give DBR when you use this website.
DBR is committed to ensuring that your privacy is protected. Should we ask you to provide certain information by which you can be identified when using this website, then you can be assured that it will only be used in accordance with this privacy statement.
By providing us your personal information ("Personal Data") whether via this website or otherwise and/or engaging DBR's products/services, you are deemed to have consented to the processing of your Personal Data by DBR and all persons involved in the provision of DBR's products/ services.
This policy is effective from January 1, 2013, but subject to changes as may be made by DBR from time to time by updating this page. You should check this page from time to time to ensure that you are happy with any changes. By continuing to use DBR's products/services and/or interact with DBR for the provision of our products/services following the changes made to this policy, you will be deemed to have accepted any such changes made.
This privacy statement is provided in both the English and Malay languages. In the event of any conflict between the English and the Malay version, the English version shall prevail.
WHAT WE COLLECT
We may collect the following information:
Name, nationality, date of birth, gender, identity card/passport number, job title, mailing address, email address, telephone number, bank account information, credit card information, particulars of your spouse or family members and any information which may identify you, your spouse or family members, preferences and interest and other information relevant to customer surveys and/or offers, and any other relevant information which we may require in order to provide you with our products/services.
In addition to the Personal Data which you provide to us via this website, we may also collect your Personal Data from various other sources, including but not limited to Personal Data available from: -
providing our products/services to you.
analysis of your payments or other transactions.
any third parties (such as credit bureaus and credit reporting agencies);
the public domain.
The provision of your Personal Data is voluntary. However, please note that if you do not provide your Personal Data, DBR will not be able to communicate with you or provide you the products/services you require.
WHAT WE DO WITH WHAT WE COLLECT
We require this information to understand your needs and to provide you with a better service, and in particular for the following reasons: -
To provide you with our products/services as requested by you.
To comply with legal or regulatory requirements or as directed by regulatory or government bodies.
To attend to your enquiries and address any concerns or complaints.
To comply with our obligations under law.
Internal record keeping.
To improve our products and services.
To periodically send promotional emails about new products, special offers or other information which we think you may find interesting using the email address which you have provided.
To use your information to contact you (by email, phone, fax, or mail) for market research purposes from time to time.
To customise the website according to your interests; and
Any other purposes directly or indirectly related to the purposes referred to above.
Internal record keeping. We may use the information to improve our products and services. We may periodically send promotional emails about new products, special offers or other information which we think you may find interesting using the email address which you have provided. From time to time, we may also use your information to contact you for market research purposes. We may contact you by email, phone, fax or mail. We may use the information to customise the website according to your interests.
SECURITY
We are committed to ensuring that your information is secure. In order to prevent unauthorised access or disclosure, we have put in place suitable physical, electronic, and managerial procedures to safeguard and secure the information we collect online.
HOW WE USE COOKIES
A cookie is a small file which asks permission to be placed on your computer's hard drive. Once you agree, the file is added, and the cookie helps analyse web traffic or lets you know when you visit a particular site. Cookies allow web applications to respond to you as an individual. The web application can tailor its operations to your needs, likes and dislikes by gathering and remembering information about your preferences.
We use traffic log cookies to identify which pages are being used. This helps us analyse data about webpage traffic and improve our website in order to tailor it to customer needs. We only use this information for statistical analysis purposes and then the data is removed from the system.
Overall, cookies help us provide you with a better website by enabling us to monitor which pages you find useful and which you do not. A cookie in no way gives us access to your computer or any information about you, other than the data you choose to share with us.
You can choose to accept or decline cookies. Most web browsers automatically accept cookies, but you can usually modify your browser setting to decline cookies if you prefer. This may prevent you from taking full advantage of the website.
LINKS TO OTHER WEBSITES
Our website may contain links to other websites of interest. However, once you have used these links to leave our site, you should note that we do not have any control over that other website. Therefore, we cannot be responsible for the protection and privacy of any information which you provide whilst visiting such sites and such sites are not governed by this privacy statement. You should exercise caution and look at the privacy statement applicable to the website in question.
CONTROLLING YOUR PERSONAL INFORMATION
You may choose to restrict the collection or use of your personal information in the following ways:
Whenever you are asked to fill in a form on the website, look for the box that you can click to indicate that you do not want the information to be used by anybody for direct marketing purposes. If you have previously agreed to us using your personal information for direct marketing purposes, you may change your mind at any time by emailing us at admin@damaibeachresort.com or writing to us at our address stated below
DISCLOSURE TO THIRD PARTIES
We will not sell, distribute, or lease your personal information to third parties unless we have your permission or are required by law to do so. We may use your personal information to send you promotional information about third parties which we think you may find interesting if you tell us that you wish this to happen.
In particular, we may disclose your personal data to the following: -
Our directors, officers and agents for purposes relating to the provision of our products/services.
Our related, associated, or affiliated companies.
Any third-party service provider, agent or contractor who have been appointed by us to provide services to us subject to sufficient controls over the information.
Any credit reference/reporting agencies including any debt collection agencies in the event of default.
Our auditors, lawyers, consultants, and other advisors.
Any regulatory and government bodies in order to comply with statutory and governmental requirements; and
Any other parties authorised by you.
YOUR RIGHT TO ACCESS AND CORRECTION
If you believe that any information, we are holding on you is incorrect or incomplete, please submit a request in writing for access to or correction of your Personal Data to: -
IT Department
Damai Beach Resort
Teluk Bandung, Santubong,
P.O. Box 2870,
93756, Kuching, Sarawak
Email address: admin@damaibeachresort.com
Fax no: (082) 846 777
Please provide us with the necessary information so as to enable us to promptly correct any information found to be incorrect.
Please also note that: -
(a) We may charge a fee for processing your request for access; and
(b) We may refuse to comply with your request for access or correction for reasons permitted under the Personal Data Protection Act, 2010, in which event we will notify you in writing of the refusal and the reasons for the refusal.
Should you have any inquiries or complaints in respect of your Personal Data, you may also contact us at (082) 846 999 or write to us at the above address.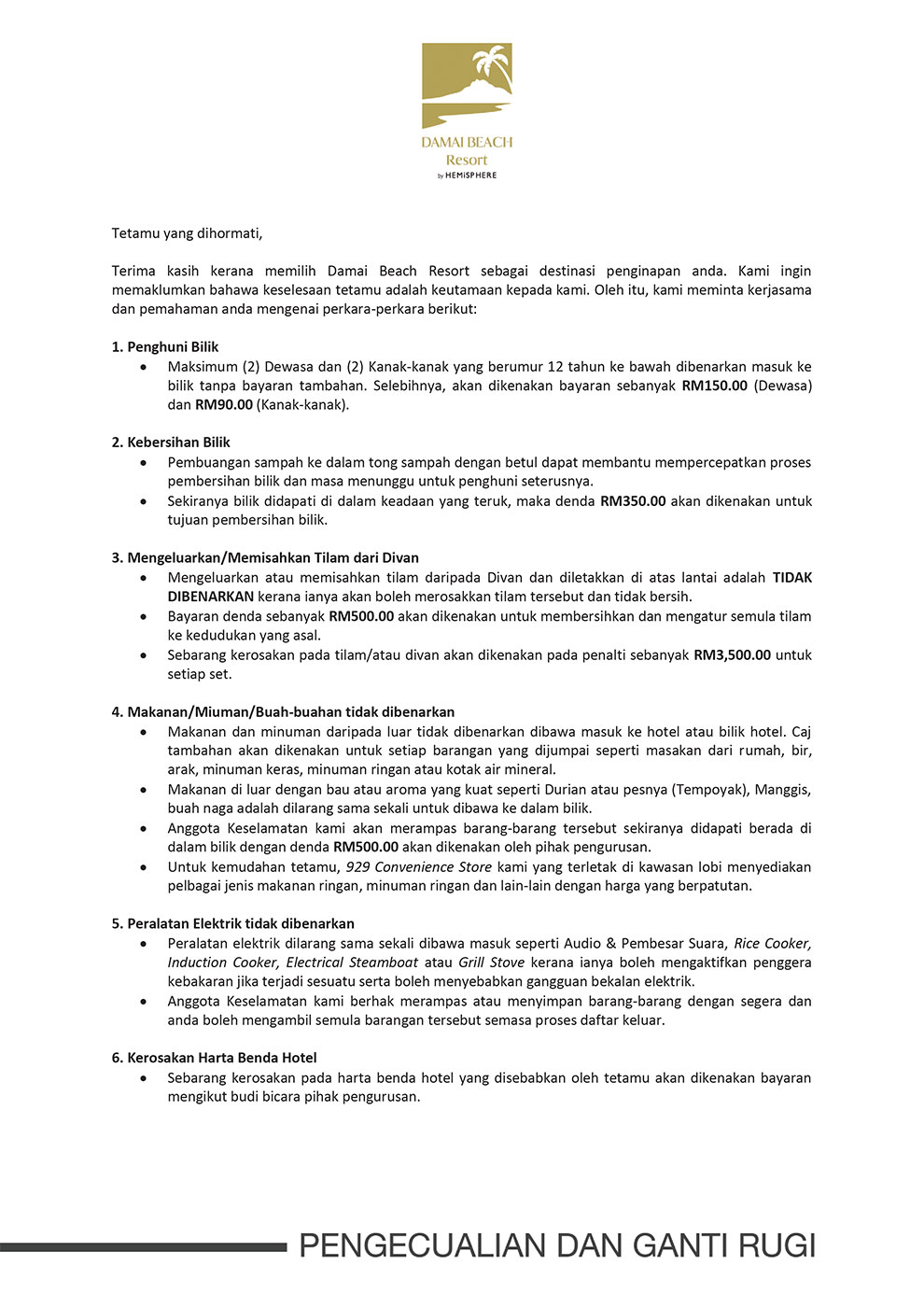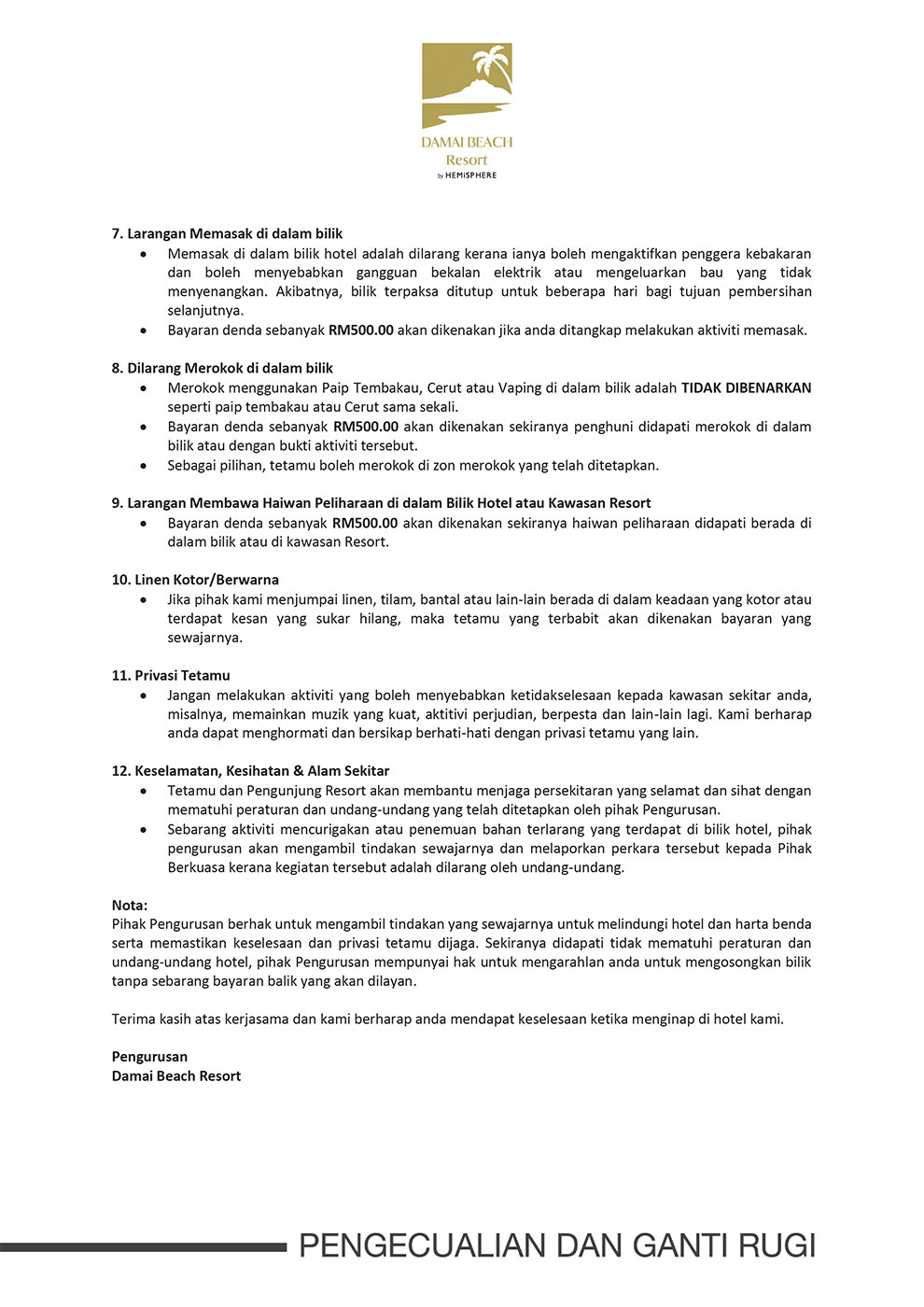 NOTIS DASAR PRIVASI
Notis dasar privasi ini menerangkan bagaimana Damai Beach Resort ("DBR") menggunakan dan melindungi sebarang maklumat yang anda berikan kepada DBR apabila anda menggunakan laman web ini.
DBR adalah komited untuk memastikan bahawa privasi anda dilindungi. Sekiranya kami meminta anda untuk memberikan maklumat tertentu di mana anda boleh dikenalpastikan apabila menggunakan laman web ini, maka anda boleh yakin bahawa ia hanya akan digunakan mengikut pernyataan privasi ini.
Dengan memberi kami maklumat peribadi anda ("Data Peribadi") sama ada melalui laman web ini atau selainnya dan/atau melalui pelangganan anda dengan produk/perkhidmatan DBR, anda dianggap telah bersetuju dengan pemprosesan Data Peribadi anda oleh DBR dan semua orang yang terlibat dalam penyediaan produk/perkhidmatan DBR.
Polisi ini berkuatkuasa mulai 1 Januari 2013, tetapi tertakluk kepada apa-apa perubahan yang dibuat oleh DBR dari semasa ke semasa dengan mengemaskini halaman ini. Anda perlu menyemak halaman ini dari semasa ke semasa untuk memastikan bahawa anda bersetuju dengan apa-apa perubahan yang dibuat. Dengan terus melanggani produk-produk/perkhidmatan DBR dan/atau berinteraksi dengan DBR untuk melanggani produk-produk/perkhidmatan kami selepas apa-apa perubahan kepada dasar ini dibuat, anda akan dianggap telah menerima segala perubahan yang dibuat kepada dasar privasi ini.
Pernyataan privasi ini disediakan dalam kedua-dua Bahasa Inggeris dan Bahasa Malaysia. Sekiranya berlaku apa-apa ketidakselarasan antara versi Bahasa Inggeris dan Bahasa Malaysia, versi Bahasa Inggeris akan diguna pakai.
JENIS DATA PERIBADI YANG DIKUMPUL
Kami mungkin mengumpul maklumat berikut:-
Nama, kewarganegaraan, tarikh lahir, jantina, nombor kad pengenalan/pasport, jawatan, alamat menyurat, alamat e-mel, nombor telefon, maklumat akaun bank, maklumat kad kredit, butir-butir pasangan anda atau ahli keluarga anda dan apa-apa maklumat lain yang boleh mengenalpasti identiti anda, pasangan anda atau ahli keluarga anda, preferensi dan minat anda dan maklumat lain yang relevan bagi survei pelanggan dan/atau tawaran-tawaran, dan apa-apa maklumat relevan lain yang mungkin diperlukan untuk memberikan anda produk/perkhidmatan kami.
Selain Data Peribadi yang anda berikan kepada kami melalui laman web ini, kami juga mungkin mengumpul Data Peribadi anda dari pelbagai sumber-sumber lain, termasuk tetapi tidak terhad kepada Data Peribadi yang boleh didapati daripada:-
memberikan produk/perkhidmatan kami kepada anda;
analisis bayaran atau urusniaga anda;
mana-mana pihak ketiga (seperti biro kredit dan agensi-agensi laporan kredit);
domain awam;
Pemberian Data Peribadi anda kepada kami adalah secara sukarela. Walau bagaimanapun, sila dimaklumkan bahawa jika anda tidak memberi Data Peribadi anda kepada kami, DBR tidak akan dapat berkomunikasi dengan anda atau memberikan produk/perkhidmatan yang anda perlukan.
TUJUAN-TUJUAN DATA PERIBADI ANDA DIKUMPUL
Kami memerlukan maklumat ini untuk memahami keperluan anda dan memberikan anda perkhidmatan yang lebih baik, dan khususnya untuk sebab-sebab berikut:-
Untuk memberikan anda produk/perkhidmatan kami seperti yang diminta oleh anda;
Untuk mematuhi keperluan undang-undang dan peraturan atau sebagaimana yang diarahkan oleh badan-badan kawal selia atau kerajaan;
Untuk menjawab persoalan anda dan menangani sebarang kebimbangan atau aduan anda;
Untuk mematuhi tanggungjawab kami sepertimana yang ditakluk di bawah undang-undang;
Untuk penyimpanan rekod dalaman;
Untuk memperbaiki produk dan perkhidmatan kami;
Untuk menghantar e-mel promosi secara berkala tentang produk baru, tawaran istimewa atau maklumat lain yang kami fikir anda mungkin mendapati menarik dengan menggunakan alamat e-mel yang anda berikan;
Untuk menggunakan maklumat anda untuk menghubungi anda (melalui e-mel, telefon, faks atau mel) bagi tujuan penyelidikan pasaran dari semasa ke semasa;
Untuk menyesuaikan laman web ini mengikut minat anda; dan
Untuk tujuan-tujuan lain yang berkaitan secara langsung atau tidak langsung dengan tujuan-tujuan yang ternyata di atas.
KESELAMATAN
Kami komited untuk memastikan bahawa keselamatan maklumat anda dilindungi. Dalam usaha kami untuk mencegah akses atau pendedahan yang tidak dibenarkan, kami telah menetapkan prosedur fizikal, elektronik dan pengurusan yang sesuai untuk melindungi dan menjamin keselamatan maklumat yang kami kumpulkan.
BAGAIMANA KAMI MENGGUNAKAN COOKIES
Cookie ialah satu fail kecil yang meminta kebenaran untuk diletakkan di dalam pemacu keras komputer anda. Setelah anda bersetuju, fail ditambah dan cookie membantu menganalisa trafik web atau membolehkan anda tahu apabila anda melawat laman tertentu. Cookies membolehkan aplikasi web bertindak balas kepada anda sebagai seorang individu. Aplikasi web dapat menyesuaikan operasinya mengikut keperluan, kesukaan dan ketidaksukaan anda dengan mengumpul dan mengingati maklumat tentang pilihan-pilihan anda.
Kami menggunakan cookies log trafik untuk mengenalpasti halaman mana yang sedang digunakan. Ini membantu kami menganalisa data tentang trafik laman web dan meningkatkan laman web kami untuk menyesuaikannya mengikut keperluan pelanggan. Kami hanya menggunakan maklumat ini untuk tujuan analisis statistik dan kemudian data itu dikeluarkan daripada sistem.
Secara keseluruhan, cookies membantu kami memberikan anda laman web yang lebih baik dengan membolehkan kami untuk memantau muka-muka surat yang anda mendapati berguna dan tidak berguna. Cookies tidak sama sekali memberikan kami akses kepada komputer anda atau apa-apa maklumat anda, kecuali data yang anda memilih untuk berkongsi dengan kami.
Anda boleh memilih untuk menerima atau menolak cookies. Kebanyakan penyemak imbas menerima cookies secara automatik, tetapi biasanya anda boleh mengubahsuai penetapan pelayar anda untuk menolak cookies. Walau bagaimanapun, ini boleh menghalang anda daripada mengambil kesempatan penuh laman web ini.
PAUTAN KE LAMAN WEB LAIN
Laman web kami mungkin mengandungi pautan-pautan ke laman-laman web lain yang berkenaan. Walau bagaimanapun, sebaik sahaja anda telah menggunakan pautan-pautan ini untuk meninggalkan laman kami, anda perlu ambil perhatian bahawa kami tidak mempunyai sebarang kawalan ke atas laman-laman web yang lain. Oleh itu, kami tidak akan bertanggungjawab terhadap perlindungan dan privasi mana-mana maklumat yang anda berikan sementara melawati laman-laman tersebut dan laman-laman tersebut tidak dikawal oleh pernyataan privasi ini. Anda harus berhati-hati dan melihat pernyataan privasi yang terpakai untuk laman web tersebut.
MENGAWAL MAKLUMAT PERIBADI ANDA
Apabila anda diminta untuk mengisi borang di laman web ini, anda boleh klik kotak yang menunjukkan bahawa anda tidak mahu maklumat anda digunakan oleh sesiapa bagi tujuan pemasaran langsung. Jika anda sebelum ini telah bersetuju untuk kami menggunakan maklumat peribadi anda bagi tujuan pemasaran langsung, anda boleh menukar fikiran anda pada bila-bila masa dengan menghantar e-mel kepada kami di admin@damaibeachresort.com atau menulis kepada kami di alamat kami sepertimana yang ternyata di bawah.
PENDEDAHAN KEPADA PIHAK KETIGA
Kami tidak akan menjual, mengedar atau memajak maklumat peribadi anda kepada pihak-pihak ketiga melainkan kami mendapat kebenaran anda atau dikehendaki oleh undang-undang untuk berbuat demikian. Kami mungkin menggunakan maklumat peribadi anda untuk menghantar maklumat promosi tentang pihak ketiga yang kami fikir anda mungkin mendapati menarik jika anda memberitahu kami bahawa anda ingin ini berlaku.
Khususnya, kami boleh mendedahkan Data Peribadi anda kepada yang berikut:-
Pengarah-pengarah, pegawai-pegawai dan ejen-ejen kami untuk tujuan yang berhubungan dengan penyediaan produk/perkhidmatan kami;
Syarikat-syarikat berkaitan, bersekutu atau bergabung dengan kami;
Mana-mana pembekal perkhidmatan pihak ketiga, ejen atau kontraktor yang dilantik oleh kami untuk memberikan perkhidmatan kepada kami sama ada di dalam atau di luar Malaysia tertakluk kepada kawalan keselamatan yang mencukupi ke atas maklumat itu;
Mana-mana agensi rujukan/pelaporan kredit termasuk mana-mana agensi pungutan hutang sekiranya berlaku pengingkaran;
Juruaudit, peguam, perunding dan penasihat lain kami;
Mana-mana badan-badan kawal selia dan badan-badan kerajaan bagi tujuan mematuhi keperluan undang-undang dan kerajaan; dan
Mana-mana pihak lain yang diberi kuasa oleh anda.
HAK AKSES DAN PEMBETULAN ANDA
Jika anda percaya bahawa apa-apa maklumat yang kami memegang tentang anda adalah tidak betul atau tidak lengkap, sila mengemukakan permohonan secara bertulis untuk akses atau pembetulan Data Peribadi anda kepada:-
IT Department
Damai Beach Resort
Teluk Bandung, Santubong,
P.O. Box 2870,
93756, Kuching, Sarawak
Email address: admin@damaibeachresort.com
Fax no: (082) 846 777
Sila berikan kami butir-butir yang diperlukan bagi membolehkan kami membetulkan dengan secepat mungkin apa-apa maklumat yang didapati tidak betul.
Sila juga ambil perhatian bahawa:-
(a) Kami mungkin mengenakan bayaran untuk memproses permohonan anda untuk akses data peribadi anda; dan
(b) Kami boleh menolak permohonan anda untuk akses atau pembetulan atas sebab-sebab yang dibenarkan di bawah Akta Perlindungan Data Peribadi, 2010 dan sekiranya dalam keadaan tersebut, kami akan memaklumkan anda secara bertulis tentang penolakan kami dan sebab-sebab bagi penolakan tersebut.
Sekiranya anda mempunyai sebarang pertanyaan atau aduan berkenaan dengan Data Peribadi anda, anda juga boleh menghubungi kami di (082) 846 999 atau menulis kepada kami di alamat sepertimana yang ternyata di atas.